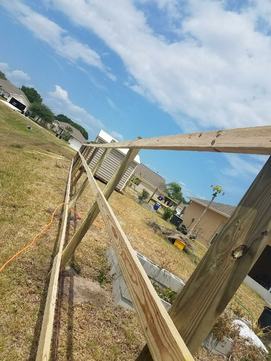 At Fence Builders Yakima we aim to ensure our customers have a great experience with their fencing needs. Our services include fence installation and fence repair. We are staffed with professional fence installers and repairmen which allows us to provide our customers with the highest quality experience possible. We are professional fence builders, and our specialty is to provide customers with a beautiful, professionally installed fence that will give customers a sense of privacy and security. Our Yakima fence company is no stranger to the diversity of life forms amongst Washington, nor are we strangers to natural disasters. We want to help keep you, your pets, children, and yard safe. We aim to help keep your yard secured, even when life happens and your fence get damaged.
It is our goal at Fence Builders Yakima to help you bring your fence back to its glory. Whether there is a fallen post, part of the fence has fallen, the paint is chipping, or even if there is a hole in your fence—we are here to help repair!
Fence Builders Yakima will repair any fence that needs to be repaired, regardless of purpose or location. If it's your home fence, keeping your pets and children safe from intruders, we will repair that fence. If it's for a commercial business and you want to keep the construction zone free of intruders, we will repair that fence. If your fence suffered through a hurricane or tropical storm, we will repair your fence. Even if it's a smaller fence, simply protecting your pool from intruders, we will repair your fence. Your safety and security is important to us here at Fence Builders Yakima, and we aim to help keep you safe and provide a sense of security.
Yakima Fence Repair in Yakima Estimate? 855-931-1331
The fence repair process involves not only repairing the fence, but bring the fence up to code as well. We will take care of all codes and requirements from your community to help make this process simpler for our customers. Our professionals will come out to evaluate the damage done to your fence, to make sure you get exactly what you need to have the fence repaired. We will not try to sell you a new fence, but we will do everything in our power to help properly repair your fence and bring it up to code. We will also do everything in our power to ensure your fence looked just like it did when it was first installed.
Fence Builders Yakima are professional fence builders who install and repair fences. We aim to help keep the community safe and provide our customers with professional, budget-friendly fence services. We have no limitations on fence repair locations (serving both residential and commercial), and we will take care of any code requirements needed by state, county, and even HOA and other community regulations. Our mission is to make sure our customers are 100% satisfied with their fence and the fence repair. If you have any questions or concerns, feel free to contact Fence Builders Yakima!